Visiting Klaten City in Central Java Province
---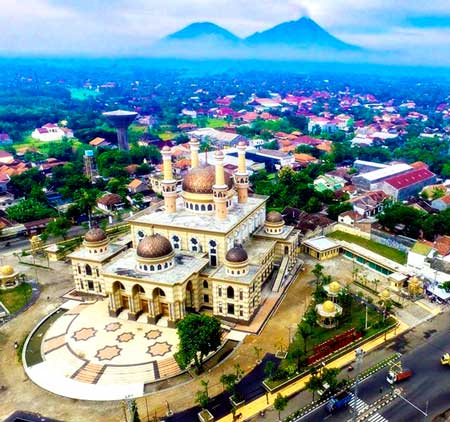 Located near to the famous Yogyakarta Special Region, Klaten City has become a nice alternative to spend a soothing vacation with families either during regular days or holidays. The good thing is that it also resides near to Solo City! That means tourists can visit attractive big cities easily without spending too much time later. As for tourist activities, visitors can enjoy various things there. After all, Klaten comes with various vacation areas including historical places, recreational areas, natural baths, and much more! Plus, tourists can enjoy some delicious traditional snacks and foods during the visit later.
The Nuance
Each city indeed has different landscapes and characters. What about Klaten City? In terms of size, it is indeed smaller than Yogyakarta Special Region and Solo City. For the information, the size is around 33.72 km per square and it consists of 3 sub-districts. The location is near to Merapi Volcano, so tourists can watch a stunning view of the mountain clearly from there. As for citizens, the majority of them belong to Java Tribe, indeed. Still, some people also come from other tribes including Tionghoa or Chinese.
Exploring Klaten City
The question is what tourists may do once arriving at Klaten City. The most common thing to do is indeed to spend family recreation. In this case, the best time to visit is during the car-free day (Sunday Morning), as the nuance becomes more peaceful and the environment becomes neater. At the time, tourists gather on Pemuda Street and enjoy some sports like jogging and yoga. Some locals also come to this area for selling products including snacks and clothes, too! As for tourists, therefore, they should not forget to carry enough cash there.
The next recommended thing to do in Klaten City is none other than visiting famous vacation spots like natural baths and temples! In order to get complete information regarding the list of best vacation spots in Klaten, though, tourists should talk to the local guide first. At least, they can save much time when exploring all those spots. As for the tips, it is recommended to get a hotel room first before visiting those places!
What is more? Tourists must not forget to drop by at nearby eateries and try some good foods and snacks before going back home. In terms of popularity, Sego Wiwit is indeed the best. Usually, the locals cook this during special events called Slamatan. Have no worries. Tourists can get one from nearby villagers later. As for other foods, there are Sego Gudangan, Geplak, Wajik, and Slondok. Don't forget to try them all!
Nearby Attractions

Sendangtirto Sinongko
River Tubing Babe
Gijigan River
Gemblengan Fishing Pond
Grojogan Bungkusan
Kedung Ndloso
Nglorog Rejo
How to Get There
Well, tourists can get to Klaten City from different locations and the duration would depend on their location, for sure. Usually, they would use a land transportation service in order to reach the destination. Here is an example. For those coming from the capital of Central Java Province, they should take Semarang – Solo Highway and head to Klaten directly. The distance is 97.7 km, so this trip may take around 1 hour and 33 minutes. Those who come from Jakarta City, though, the trip would take longer. The distance is 532 km and the best route is Cikopo – Palimanan Highway. That means this trip may take at least 7 hours and 45 minutes.
Where to Stay

Graha Srikandi Hotel
Srikandi Hotel
Victoria Hotel
Rachmad Hotel

Latest News
One of the many Dutch heritage forts, Van Der Wijck Fort is unique because the entire building is made of red brick. You've seen? This fort with an octagonal plan looks more charming with its red color, compared to Dutch forts which are generally colorless or white. It looks like the fort from the front and inside uses red bricks, but still with the characteristics of a Dutch fort in Indonesia which has a large building structure, such as windows, doors and rooms. With an area of 3606,625 square meters,…
---
Magelang has a number of temples as the favorite tourist destinations. Besides Borobudur, you can visit several other places, such as tourist villages. There are several tourist villages around Borobudur Temple with a unique and interesting atmosphere. In addition to saving nature, you can also get to know the culture behind it. Temanggung VillageTemanggung Village was viral because it was called Nepal van Java. The view of the village at the foot of Mount Sumbing is really epic. Tanjungsari VillageIf you are interested in the process of making honey, you…
---
Punuk Sapi BeachPunuk Sapi Beach is also popularly known as Pantai Lemah Abang which means "red land beach". It is named so because this beach is indeed filled with mounds to hills with red soil that at first glance looks like a cow's hump (punuk sapi is cow's hump in English). This beach has black sand, but it is also beautiful like the white sand beaches. There are hammocks and swings that you can use to relax, as well as take pictures from a height. This beach is located in…
---
Arjuna Temple complex is the most photographed and visited of the surviving temples on the Dieng Plateau. Situated just a few hundred meter from the homestays in Dieng village, they are an obvious first stop on a tour of the sights in the area. Though they are far from the most imposing of Javanese temples, they are the earliest surviving Hindu temples in Central Java, so they are of great importance historically. Built a century or two before the great temples around Yogyakarta and Magelang, they mark the original phase…
---