Visiting Nusa Penida Island in Bali Province
---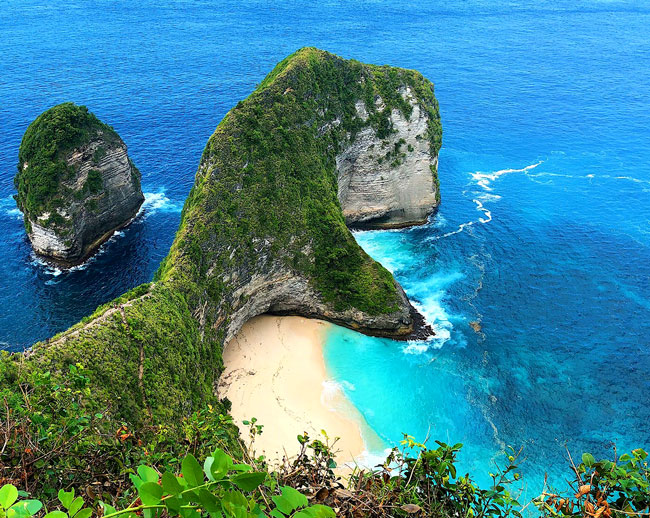 It is true that Bali Province becomes the world's top class when it comes to tourism. The region also features some small beautiful islands for tourists to explore. One of them is called Nusa Penida Island, which is located in the southeast part of Bali Island. It belongs to Klungkung Regency, actually. Due to the popularity, Nusa Penida has included several facilities and accommodations, so tourists would feel comfortable during the visit. Not to mention many exotic beaches and other natural attractions reside on that island! This small paradise suits everyone's needs when spending a long holiday, for sure.
The Nuance
In terms of nuance, Nusa Penida Island offers a distinct atmosphere. Even though it doesn't come with sophisticated facilities, tourists would feel comfortable spending more than one day during the visit. Not to mention the island has many types of natural attractions including beaches, hills, temples, and much more! Also, tourists may find lush forests in some parts of the island. Some animals are also seen there including cows and wild boars. On top of that, the island has some recommended spots for snorkeling and diving!
Exploring Visiting Nusa Penida Island
The first benefit for visiting Nusa Penida Island is related to the comfy environment. Tourists are able to enjoy a refreshing and pure nuance regardless of the time of the visit. It is because the region resides in a highland. There is no pollution and the environment is pristine. The only issue is related to bad provider signal, so tourists won't get a clear communication service in that area. Despite the fact, the island is suitable for lessening and getting away from busy routines.
In order to get around Nusa Penida efficiently, tourists should hire a tour guide, though. This way, they can visit major vacation spots without spending too much time. The best destinations are Crystal Bay, Paluang cliff, Kelingking Beach, Broken Beach, and Pohon Cinta. Still, everyone must find either a hotel or resort for resting before exploring the island. Have no worries. The option is many.
Good foods, beautiful natural attractions, and comfy accommodations are three prime allures in Nusa Penida Island. This small paradise suits those who look for a perfect holiday regardless of the event. These include family recreation, honeymoon, and adventure. Those who love water sports can also find several diving spots to see beautiful sea scenery and exotic marine creatures like sea turtles and manta rays!
Nearby Attractions

Suana Point Beach
Gamat Bay Diving Spot
Manta Point Nusa Penida
Nusa Lembongan
Nusa Ceningan
How to Get There
The first destination would be Bali Island and the best transportation is an airplane. For those coming from Jakarta City, they should get an airplane service at Soekarno – Hatta International Airport and the destination would be Ngurah Rai International Airport. This flight may take around 1 hour and 40 minutes. Once they arrive at Denpasar City, the next destination is Sanur Port and the best route is By Pass Ngurah Rai Street. The distance is 17.3 km, so tourists can get there in 31 minutes. From Sanur Port, tourists can get to Nusa Penida Island by taking a fast boat. This voyage may take around 35 minutes.
Where to Stay

Coco Resort Penida
Mesare Resort
Rama Homestay
Kubu Reot Taman Asri Villa
The Sabho Garden

Latest News
Nyepi Day is a Hindu New Year in Bali which is celebrated on the first new moon in March. It is usually celebrated on the same day as the Indian festival, Ugadi. Nyepi Day TraditionsA few days before Nyepi, a Balinese Hindu purification ceremony and ritual called Melasti takes place. During Melasti, parades of villagers carry all the sacred objects from their temples to the sea or the shore of a nearby lake. There sacred objects are cleaned and purified with the holy water of the sea or lake. Nyepi…
---
Ubud is ranked fourth in the list of '25 Best Cities in the World' version of Travel and Leisure 2021. In that list Ubud is above Kyoto to Bangkok. In the list, Ubud managed to beat popular tourist cities in other countries, such as Bangkok, Seoul, Tokyo, and Rome. Ubud's position is above Kyoto, Japan and below Istanbul, Turkey. Bangkok is ranked tenth, Rome is ranked 14th, Tokyo is ranked 19th, and Seoul is ranked 23rd. Meanwhile, San Miguel de Allende city in Mexico was named the first rank of…
---
Tibumana Waterfall is one of the hidden tourist spots in Bali. Its presence in a rural area of ??Bangli, is still thick with shades of lush green trees. The existence of its location makes this tourist spot very comfortable to relieve fatigue while on vacation.Tibumana Waterfall Bangli Bali has the uniqueness of its shape like twin waterfalls. Because there are two streams of water located side by side. Even so, the waterfall with a height of 20 meters does not always flow the same. There are times when only one…
---
There are many ways to spend honeymoon with your partner, one of way is visiting romantic tourist destinations. About romantic tourist destinations, Bali is the right place for those of you who want to enjoy a honeymoon. Taking a walk to the beach together or enjoying the natural atmosphere away from the hustle and bustle of the city are things you can do when visiting this Gods Island. Campuhan Hill, UbudEnjoying the beautiful natural atmosphere while holding hands, walking down a beautiful hill is something you can find at Campuhan…
---