Visiting Nusa Lembongan Mangrove Forest in Bali Province
---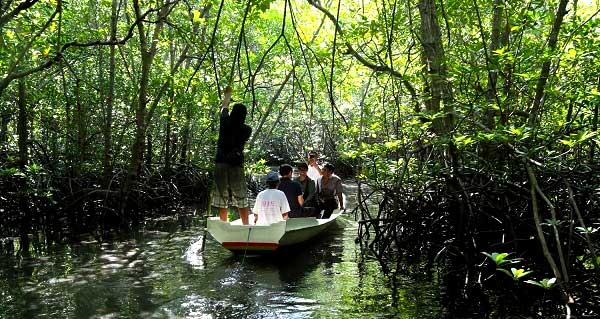 Most people recognize Nusa Lembongan Island for its amazing beaches, no? However, the island has other allures that tourists can enjoy during the visit. This includes the mangrove forest, which is located on the shoreline. As people may expect, they may see lush mangrove trees in that area. This distinct nuance soothes visitors, for sure. It is because tourists can conduct exploration while learning some species of mangroves on the site. The location is suitable for numerous activities too, in fact. These include photography, sightseeing, and relaxation. Thanks to the beautiful landscape.
The Nuance
When it comes to nuance, Nusa Lembongan Mangrove Forest looks serene due to the low number of visitors. Despite the fact, the site never loses its visitors. Thanks to the popularity. In terms of size, it has a total area of 230 hectares. Tourists can also feel its natural ambiance due to the presence of beautiful mangrove trees on the shore. Most of these trees have a height of about 6 meters and they have at least 11 species! Therefore, tourists should come with a local guide who can explain the name and types of those mangroves during the exploration.
Exploring Nusa Lembongan Mangrove Forest
Along the way to Nusa Lembongan Mangrove Forest, tourists may see majestic mangrove roots (having the height of about 6 meters). Not to mention there are 11 species that tourists can find there, including Bako, Bakau Pitih, Banang-Banang, and Sonneritia Alba. Their appearance is definitely amazing and worth photo shots. This is why all tourists should not forget carrying a camera during the visit. It is also recommended to come with either friends or families for a merrier nuance.
Once arriving at the site, tourists should look for a boat service right away. The purpose is to explore the mangrove site by boat comfortably. Here is the thing. The fee is considered expensive, so everyone should have prepared the money beforehand. Another tip is related to the time. Tourists should consider visiting the site only in the morning during the high tide. It is because the landscape is prettier and the atmosphere is more comfortable at the time.
The only disappointment is that Nusa Lembongan Mangrove Forest doesn't come with excellent accommodations. This explains why tourists must get a hotel room beforehand and carry enough supplies like snacks and bottled water when visiting the site. Don't forget to carry a camera to capture many interesting objects later, including the mangrove trees, Jalak Bali (exotic local bird), and much more!
Nearby Attractions

Mangrove Point
Lembongan Watersport
How to Get There
Those who come from Jakarta City should take an airplane service in order to reach Bali Province. They can get the airplane at Soekarno – Hatta International Airport and head to Ngurah Rai Airport right away. This flight may take around 1 hour and 40 minutes, actually. Once they arrive at Denpasar City, the next destination is none other than Sanur Port. The distance is 17.3 km and the best route to take is By Pass Ngurah Rai Street. This trip may take approximately 31 minutes. From Sanur Boat, a voyage to Nusa Penida takes around 30 minutes. Once arriving at Jungut Batu Port, tourists should take Jungutbatu Street and head to the mangrove forest directly. The distance is 3.5 km, so the trip takes around 11 minutes or less.
Where to Stay