A Vacation in Beautiful Nusa Lembongan, Bali Province
---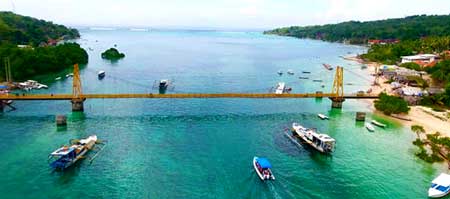 Bali Province has several small beautiful islands for tourists to explore these days. One of them is called Nusa Lembongan Island and it is located in the southeast of the famous Bali Island and tourists can get there by boat. The most famous attraction would definitely natural Indonesia tourism. However, the island also offers other allures including local villages and superb accommodations like hotels and resorts. That means the island is suitable for numerous vacation activities like natural exploration, water sports, family recreation, honeymoon, photography, and lessening! It becomes a great alternative to get away from daily busy works, as well!
The Nuance
In terms of size, Nusa Lembongan Island is considered small. Despite the fact, it offers many impressive natural attractions, especially beaches. The locals also work mostly in the sea either as a fisherman or seaweed farmers. Still, some of them work in the tourism industry, especially as a guide. As for the nuance, the island is considered peaceful. It is because most of its parts are covered by natural landscapes including beaches, cliffs, caves, and much more! This explains why the island is suitable for relaxation and spending a family recreation.
Exploring Nusa Lembongan
Nusa Lembongan Island consists of many interesting natural attractions and vacation spots, especially the ones that relate to the shore. When it comes to popularity, it is none other than Dream Beach and Devil's Tears. This combo would satisfy all tourists, without a doubt. Visitors can enjoy numerous water sports and beach activities there. Not to mention they can enjoy sea panoramas while eating good foods or drinking refreshing drinks. For a merrier nuance, it is recommended to come with friends or families. Also, tourists must come during weekends and holidays for the best atmosphere.
For those who never visited Nusa Lembongan, they must consider hiring a local guide. This service would help them to find good vacation spots in that area. Not to mention he may give thorough information and history related to those places. As for the best times, it varies depending on tourists' need. For example, some would explore the island in the morning for its more refreshing air. Others would spend their time in Nusa Lembongan in the afternoon, though, for its beautiful sunset and soothing ambiance.
What is more? Tourists visit Nusa Lembongan in order to meet the locals. People who live in that island work mostly as a fisherman and local guide, actually. For lucky tourists, they would have the chance to get in a villager's house and learn further regarding the culture. Plus, it is possible to taste all the delicious local foods there!
Nearby Attractions

Monkey Surfing
Lembongan Dive Center
Newbro Surfing
Dream Beach
Devil's Tears
How to Get There
Before heading to Nusa Lembongan Island, tourists should reach Bali Province first (which is the first checkpoint). As for the fastest trip, it is recommended to take an airplane. For instance, a flight from Soekarno – Hatta International Airport at Jakarta City to Ngurah Rai International Airport would take around 1 hour and 40 minutes. After arriving at Denpasar City, tourists must take By Pass Ngurah Rai Street and reach Sanur Port. They can get a fast boat service in that area, after all. The distance is 17.3 km, so this trip takes only 31 minutes. After getting the boat service, they can directly visit Nusa Lembongan Island (which takes approximately 30 minutes). Their destination is Jungut Batu Port, actually.
Where to Stay

D'Camel Hotel
DnB Bungalow
Jenggala Homestay
Padma Kumala

Latest News
Nyepi Day is a Hindu New Year in Bali which is celebrated on the first new moon in March. It is usually celebrated on the same day as the Indian festival, Ugadi. Nyepi Day TraditionsA few days before Nyepi, a Balinese Hindu purification ceremony and ritual called Melasti takes place. During Melasti, parades of villagers carry all the sacred objects from their temples to the sea or the shore of a nearby lake. There sacred objects are cleaned and purified with the holy water of the sea or lake. Nyepi…
---
Ubud is ranked fourth in the list of '25 Best Cities in the World' version of Travel and Leisure 2021. In that list Ubud is above Kyoto to Bangkok. In the list, Ubud managed to beat popular tourist cities in other countries, such as Bangkok, Seoul, Tokyo, and Rome. Ubud's position is above Kyoto, Japan and below Istanbul, Turkey. Bangkok is ranked tenth, Rome is ranked 14th, Tokyo is ranked 19th, and Seoul is ranked 23rd. Meanwhile, San Miguel de Allende city in Mexico was named the first rank of…
---
Tibumana Waterfall is one of the hidden tourist spots in Bali. Its presence in a rural area of ??Bangli, is still thick with shades of lush green trees. The existence of its location makes this tourist spot very comfortable to relieve fatigue while on vacation.Tibumana Waterfall Bangli Bali has the uniqueness of its shape like twin waterfalls. Because there are two streams of water located side by side. Even so, the waterfall with a height of 20 meters does not always flow the same. There are times when only one…
---
There are many ways to spend honeymoon with your partner, one of way is visiting romantic tourist destinations. About romantic tourist destinations, Bali is the right place for those of you who want to enjoy a honeymoon. Taking a walk to the beach together or enjoying the natural atmosphere away from the hustle and bustle of the city are things you can do when visiting this Gods Island. Campuhan Hill, UbudEnjoying the beautiful natural atmosphere while holding hands, walking down a beautiful hill is something you can find at Campuhan…
---