---
About Wonderful Indonesia
---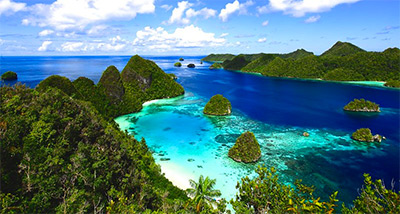 Indonesia is the largest archipelago in the world, range from Sabang in Aceh to Merauke in Papua, which is made up of thousands of large and small islands, which are connected by the strait and sea. According to data from the Ministry of Interior of the Republic Indonesia in 2010 was as much as 17,504 islands. 7,870 of them have names, while 9,634 do not have a name.
The total area of the Indonesian ocean broader than its land, Indonesia's land area of 1.91 million km2, while the area of oceans is 6.279 million km2. With such widespread Indonesia kept many natural resources on land and under the sea is beautiful. No wonder if Indonesia has many wonderful spots especially in the sector of the beach. Due to the geographical position of Indonesia itself that is located in parts of the equator. Among the many beaches, there are several beaches in Indonesia are categorized as the most beautiful beaches in the world. Among other Senggigi Beach in Lombok, Kuta Beach in Bali, Bunaken Beach in Manado, and many other beautiful beaches.
Indonesia has very beautiful natural wealth. Because of its natural beauty that Indonesia has become a tourist destination that is much coveted by both local and international travelers from around the world. Panorama in Indonesia is certainly not inferior to other countries. For it would not hurt if we went on holiday to enjoy a variety of natural beauty that exist in Indonesia and make it as a tourist destination.
Not only that, Indonesia is also rich in culture, various tribes living in Indonesia with harmony and peace, each tribe has its own characteristics that make cultural diversity in Indonesia, besides Indonesia also has a distinctive culinary in each territory.
Indonesia is the country that has extraordinary natural wealth. In fact, all the world is well-known attractions here. Indonesia has hundreds of National Parks that must to visit. One of them is the Komodo National Park is the sole habitat of Komodo in the world. In addition, there is also a favorite of international climbers is Carstensz Pyramid where this mountain was shrouded in eternal snow. Indeed, the wealth of natural attractions Indonesia countless. To prove it, please visit Indonesia as recommended tourist destination by presenting the most complete natural wealth on earth.
Indonesia Tourism Events :
Top 10 Must Visit Places in Indonesia :
---
Bromo Mountain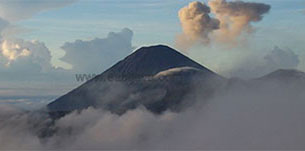 Bromo mountain, is the most popular destination in Indonesia that always been visited by both local or foreign. This mountain is also belongs to the Bromo Tengger Semeru National Park. Bromo Mountain is an active volcanic mountain that located in Probolinggo regency, East Java. At 2,329 meters (7,641 ft) it is not the highest peak after all, but is the most well know mountain.
Bawean Treasure Island

Bawean Island is one of wonderful island in Indonesia, precisely in East Java province area. This island has many tourists destinations which are not inferior to other tourist destinations in Indonesia. Besides its marine tourism,, lakes and waterfalls toursm, the visitors can also enjoy the culture of the indigenous people in Bawean Island.
Orangutan Destination

Orangutans are large apes that live in southeast Asia (on the islands of Borneo and Sumatra). These apes mostly live in trees (they are arboreal) and swing from branch to branch using their arms. There are many tour travel agents in Indonesia that will be happy to guide you to visit the Orangutan destination. In this site, presents to give you some information about how you can get the Orangutan destination. Mostly, the pictures and information here is about Orangutan tour in Borneo (Kalimantan) island, precisely located in Tanjung Putting National Park In Pangkalan Bun, Central Kalimantan - Indonesia.
Komodo Island

Komodo National Park also has amazing underwater life. The divers states that Komodo island is one of the best dive sites in the world. With stunning views of sea bottom where there are 385 species of beautiful corals, mangroves and sea grass, as well as home to thousands fishes, 70 sponges species, 10 species of dolphins, 6 kinds of whales, green turtles, and various types of sharks and stingrays. The combination of a variety of vegetation in the park provide a good environment for different types of animals in this region
South Sumatra Tourism

South Sumatra province since centuries ago also known as 'The Earth of Sriwijaya'. In the 7th century to the 12th century AD, this region was the center of Sriwijaya kingdom which also known as the largest and strongest maritime kingdom in the archipelago. Echoes and its influence even to Madagascar in Africa.
Jampit Coffee Plantations

Jampit coffee plantations, is an agro-tourism in Bondowoso managed by PTP Nusantara Kalista Jampit VII. This plantation is located 74 km to the east district Bondowoso. This plantation has 4000 hectares and is located at an altitude of 900 M above sea level.
Ijen Crater

Ijen Crater or Kawah Ijen is the complex of volcanic area, which there is a crater of Ijen and its plateau, which has 2,600M and 8,660 M high. Ijen crater is located in three parts of regencies, which in Situbondo, Bondowoso, and Banyuwangi, East Java. This volcanic area become the most incredible and surreal volcanic area which has a gigantic turquois crater lake in East Java.