Worldwide Tour Tanjung Puting (3 Days/ 2 Nights)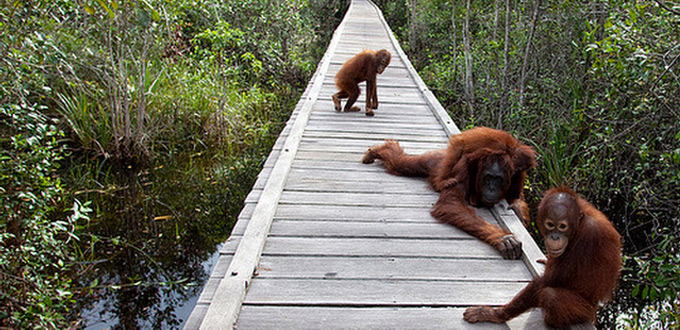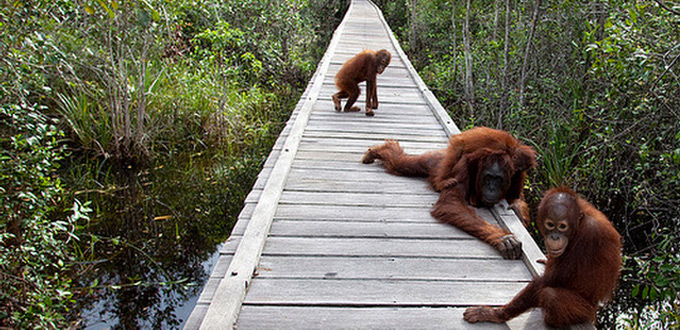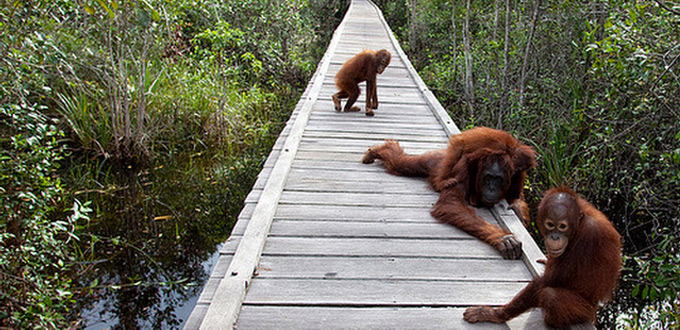 Tanjung Puting National Park has several ecosystems consist of lowland tropical rainforest, dry land, forest, freshwater swamp forests, mangrove forests, coastal forests and secondary forests.
This area is dominated by lowland forest plants like Gelatin (Dyera costulata), Ramin (Gonystylus bancanus), Meranti (Shorea sp.), Keruing (Dipterocarpus sp.), and Rattan.
An endangered species endemic and protected, contained in the forest Tanjung Puting National Park include the orangutan (Pongo Satyrus), proboscis monkey (Nasalis Larvatus), maroon leaf monkey (Presbytis rubicunda rubida), bears (Helarctos malayanus erysipelas), deer (Tragulus javanicus close), clouded leopard (Neofelis nebulosa), and a cat (Prionailurus bengalensis borneoensis).
Tanjung Puting National Park is the first location in Indonesia as an orangutan rehabilitation center. There are three locations for the rehabilitation of orangutans in Tanjung Harapan, Pondok Tanggui, and Camp Leakey.
Bornean orangutan has a dark reddish fur and a tail. In line with the growth of age, adult males develop cheek pads to form. Getting older, the greater the cheek pads so impressed sinister face. Tanjung Puting National Park designated by UNESCO as a Biosphere Reserve in 1977 and is the Sister Park with Malaysia.

Tour Itinerary:
DAY 01. Airport-Kumai-Tanjung Puting
Arrival at Pangkalan Bun airport meet service and then drive to Kumai by taxi (25 minutes). Pass several villages. Upon arrival in Kumai, board on the boat and then boating up slowly to Tanjung Puting National Park to explore the Sekonyer river by klotok (traditional wooden boat) while observe the wildlife such as Proboscis Monkey (long nose monkey), long tail monkey, birds etc along the river sides. Dinner and sleep on the boat.
Note : The boat is a traditional wooden river boat about 14m by 2m with roof upper deck where you can see the rain forest. The guide's team includes the boatmen, cook and tourist guide. On the boat, we have simple mattress, pillow, mosquito net, meals, mineral water, kitchen and toilet.
DAY 02. Tanjung Puting-Pondok Tanggui-Camp Leakey-Nipa Area
After early breakfast, boating up to Pondok Tanggui Camp to witness orangutan feeding at 9am. Upon arrival at Pondok Tanggui, we walk to feeding area. After orangutan feeding we can take short trekking in the forest. Then proceed to Camp Leakey about 1,5 – 2 hours boating. After lunch on the boat, you have opportunities to take short trekking or see information center before see orangutan feeding at 14.00 pm. After visiting Camp Leakey, we boating down slowly to Nipa Palm Area (house of Fireflies). On the way down we still can be observe the monkeys, birds and other animals, and in the evening if good weather we can see the fireflies along the nipa palm. Dinner and sleep on the boat.
DAY 03. Nipa Area-Kumai-Pangkalan Bun Airport
After breakfast boating down to Kumai and then transfer by car to Pangkalan Bun airport for your next destination. Tour end.
Note : If you have more time we can make City Tour or stay longer in Tanjung Puting National Park (depend on your flight schedule)
Price including: guide fee, boat, ranger, meals, soft drinks and other snacks, entrance permit to Tanjung Putting.
Price excluding: personal expenses, ticket flight, and tipping guide.
To be remembered: this tour is started in Pangkalan Bun, if tourist from Palangkaraya- Palangkalan Bun, additional charge may apply.
For more information: southkalimantan@indonesia-tourism.com