Tanjung Puting National Park Trip 5 Days/4 Nights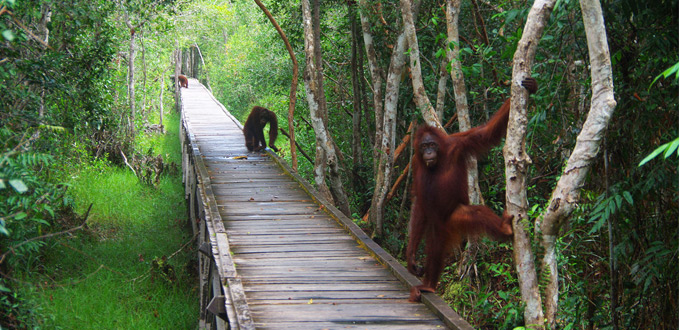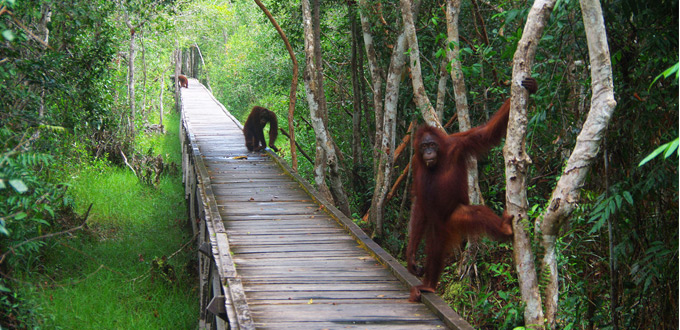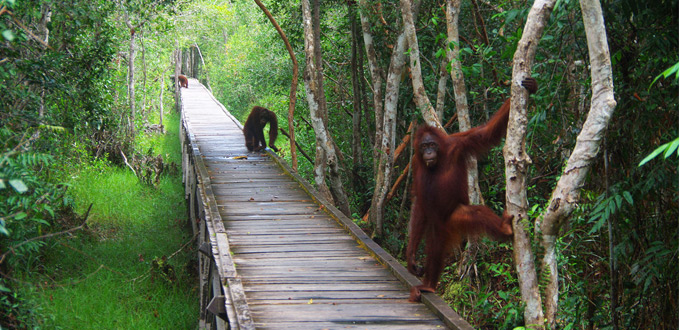 DAY 01: JAKARTA ARRIVAL
Upon arrival at Jakarta International airport, you will be met and transfer to a hotel in Jakarta for your accommodation. Rest of the day is free program with lunch and dinner on personal expenses.
DAY 02: JAKARTA – PANGKALAN BUN – TANJUNG PUTING NATIONAL PARK (B,L,D)
After breakfast transfer to Jakarta airport for flight to Pangkalan Bun in Central Kalimantan. Upon arrival at Pangkalan Bun Airport you will be
picked up by our local staff and take you to Kumai to board on the boat. The boat is a traditional Klotok wooden river boat about 6m by 2m with a roof which forms the upper deck where you can view the rain forest as it glides by. The guide's team includes the boatman, a cook and expert guide. In the peaceful afternoon we will slowly explore the quite river by the klotok while observe the monkeys along the riverside. Overnight at romantic lodge situated on the river side
DAY 03: ORANGUTAN EXPLORATION (B,L,D)
After breakfast board the klotok to travel up river for about 2 hours boating and then up a side creek to Camp Leakey where the older orangutans are reintroduced into the rain forest. En route stop at Pondok Tanguy, the rehabilitation center for the new ex-captive orangutans. At Camp Leakey you will have opportunity to trek into the rain forest with your expert guide and the forestry rangers to appreciate the flora as well as perhaps sighting wild orangutans, gibbons, macaques, and birds. Lunch provided on boat. Afternoon visit the feeding station to see rehabilitate orangutans are given additional foods. We will then sail back down the river to overnight on the boat. Dinner on the boat and overnight on the boat or lodge. While overnight on the boat we serve thin mattress, pillow, fine meals, bottled "mineral" water, mosquito net, kitchen, simple toilet available on boat besides the familiar – helpful guides and boatmen
DAY 04: ORANGUTAN EXPLORATION (B, L, D)
The EXTRA DAY at the park you will explore deeper in the jungle, trekking in the different trails, and you may encounter different orangutan both wild or ex-captive and other wildlife, tropical rain forest of Borneo, and different beauty of nature. We can guarantee that the tropical rain forest of Borneo and its natural beauty will spoil and make your best of life time adventure experience. Overnight at the river side lodge
DAY 05: TANJUNG PUTING PARK – KUMAI – PANGKALAN BUN AIRPORT – SEMARANG AIRPORT – JOGYAKARTA (B)
After breakfast boating down to Kumai before transfer by car to Pangkalan Bun airport for your next destination.In the appropriate time, transfer out to the airport for your flight to Semarang Airport. Upon arrival at Semarang Airport you will be met by our local guide and drive for about 3 hours on a comfortable air-conditioned coach to Jogyakarta, the center of Javanese Art & Cultures. Lunch and dinner on personal expenses.
For more info: centralkalimantan@indonesia-tourism.com