Baliem Valley Explore Tour Package 5 Days/4 Nights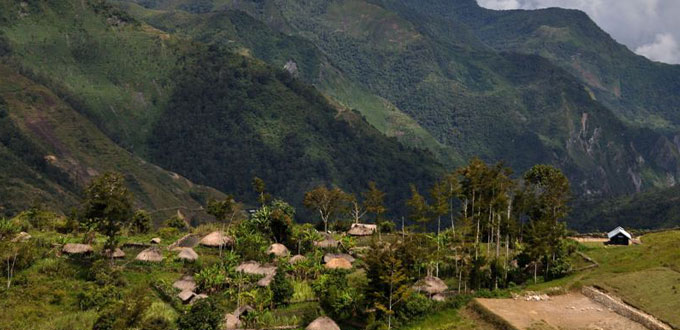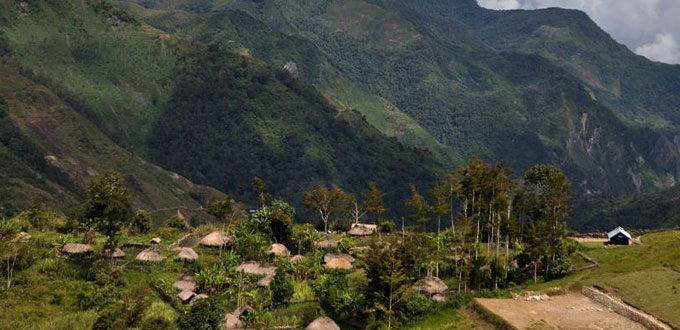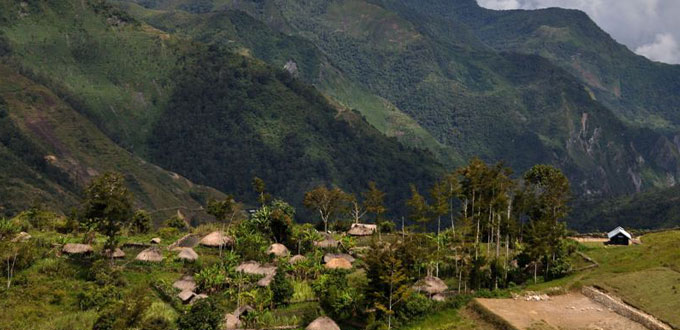 Day 1: Jayapura – Wamena (B,L,D)
Arrival at Jayapura airport , meet and greeting service by your guide and check in on the flight to Wamena around 11.00h, right in the heart of the Baliem Valley. Flying past vertical mountain cliffs and mist clad valleys, you will understand why the place remained isolated for so many centuries ! After passing local customs – there are alcohol restrictions in the Baliem Valley. We will explore the area and get first impressions of another world. Napua Hills with its panoramic view of the valley, Wesaput village and its traditional hanging bridge, some Dani villages and a traditional market. Afternoon check-in at your hotel, your base for further valley explorations. Dinner and overnight at BALIEM PILAMO HOTEL
Day 2: SOUTHERN BALIEM VALLEY EXPLORE (B,L,D)
Today we drive in 35 minutes to Sogokmo village at southern part of Baliem valley, and start to have a day trek for about 4-5 hours through Dani sweet potatoes gardens and enjoy the gorgeous scenery surrounding, you get to Kurima the sub-district. Along the trail you will meet local people with friendly smile in their traditional clothes, After picnic lunch heading back to Sogokmo where the cars pick you up to Wamena for dinner and overnight stay at BALIEM PILAMO HOTEL
Day 3: WAMENA (Dani Ceremonies of Pig feast and Dance)  (B,L,D)
After breakfast, drive 30 minutes to Jiwika in the Northern part of Baliem valley to see the 250 years old Mummy. Then walk 10 minutes to village of Anemoigi where you can view the Dani Mock battle and Pig feast. You will see how the Dani make fire traditionally, kill a pig with bow and arrow and cook them into the hot-burned stone with vegetables and sweet potatoes in the steaming pit on the ground. Lunch box will be provided or we can have grill pig and local food for our lunch. After lunch visit the Mili Mountain to see how the Dani women make a salt in the traditional way. Afternoon drive back to BALIEM PILAMO HOTEL  for dinner and overnight stay.
Day 4: Wamena – Jayapura (by flight) (B,L,D)
After breakfast, transfer to airport for your flight back to Jayapura.
Arrival at airport of Jayapura You may have a full day sightseeing tour including Mac Arthur 2nd World War monument, Sentani lake by long boat to visit Assey and Ayapo villages how the Sentani tribe make the bark painting. Lunch have at Yougwa restaurant near the lake. After lunch, see the Anthropology museum (open from Monday to Saturday at 09.00-14.00), then Hamadi market & Jayapura city. Afternoon check in at SWISS BELHOTEL in Jayapura for overnight and dinner.
Day 5: Jayapura – Denpasar (by flight) (B)
After breakfast, transfer in time to Sentani airport of Jayapura  for flying to next destination to Bali. Arrive in Bali, pickup by our representative and transfer to Maxi Hotel for accomodation.
For more info: papua@indonesia-tourism.com