Visiting Nusa Ceningan Island in Klungkung Regency, Bali Province
---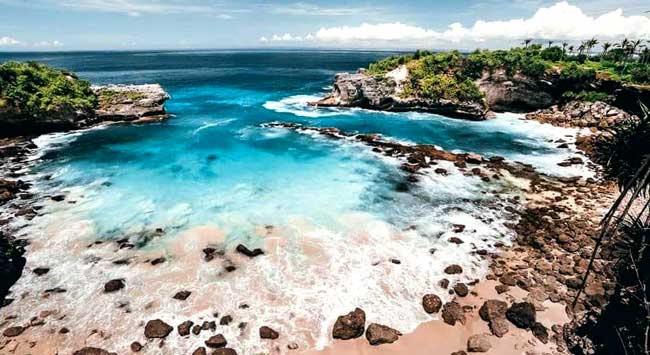 Located between Nusa Lembongan and Nusa Penida Island, a beautiful isle resides. The name is Nusa Ceningan and it becomes a great addition to those exotic islands (especially when it comes to Indonesia tourism). Some people who never visit the island would wonder what they can do there, though. It is because they don't have references at all. Have no worries. Nusa Ceningan is suitable for almost all types of tourist activities. These include water sports, photography, sightseeing, and natural exploration. In terms of transportation and accommodation, it is considered excellent too!
The Nuance
Nusa Ceningan Island consists of different landscapes, so it offers various nuances to visitors. In coastal areas, tourists may find beautiful blue seawater with its small waves. Many boats often pass by in that area, too. As for the most popular feature, the island has the famous Yellow Bridge that connects to Nusa Lembongan Island. What is more? The island also has many beautiful cliffs where tourists can enjoy sightseeing, photography, and even cliff jumping! Plus, it is easy to find hotels or other accommodations there. Plus, tourists can easily get around the island by taking advantage of available local transportation services.
Exploring Nusa Ceningan Island
Those who visit Nusa Ceningan Island should not miss the chance to reach the famous Yellow Bridge. This majestic bridge is unique and worth a photo shot, after all. Tourists can simply take photos from afar or even exploring the bridge directly. From the bridge, the panoramas look great too! Tourists may see passing boats, an exotic white sandy beach, beautiful sea, and other allures from up there! Somehow, the nuance is comfy enough for relaxation.
It is a known fact that Nusa Ceningan Island has lots of attractive vacation spots for tourists to explore. Thus, no one would feel bored there. Some of the recommended destinations are Blue Lagoon, Secret Beach, Driftwood Bar, Mahana Point, and the Yellow Bridge. All tourists must visit these prime places for the best vacation experience, therefore. Have no worries. A local guide would help tourists regarding the location and direction later.
What is more? Tourists should not forget to find some good eateries and try local foods with their families. Nusa Ceningan Island has several delicious snacks and foods, after all. These include sate lilit, cacah, tipat santok, and ledook. Not only they taste unique, but their price is affordable too!
Nearby Attractions

Adi Sakti Temple
Lebaoh Temple
Blue Lagoon
How to Get There
From Jakarta City or other regions, tourists must find an airplane service at Soekarno – Hatta International Airport and head to Ngurah Rai International Airport at Bali Island. This flight takes approximately 1 hour and 40 minutes. It can be either less or more depending on the weather, though. Once tourists arrive at Denpasar City, they can simply take Bypass Ngurah Rai Street and head to Sanur Port. This trip may take around 31 minutes, as the distance is 17.3 km. The destination is indeed Nusa Lembongan Island and tourists can get there by fast boat. Next, they should take a local transportation service and reach Ceningan Island by passing through Yellow Bridge. Approximately, this trip takes 2 hours!
Where to Stay

The Puncak Sunset Ceningan
Mata Lebaoh Hotel

Latest News
Nyepi Day is a Hindu New Year in Bali which is celebrated on the first new moon in March. It is usually celebrated on the same day as the Indian festival, Ugadi. Nyepi Day TraditionsA few days before Nyepi, a Balinese Hindu purification ceremony and ritual called Melasti takes place. During Melasti, parades of villagers carry all the sacred objects from their temples to the sea or the shore of a nearby lake. There sacred objects are cleaned and purified with the holy water of the sea or lake. Nyepi…
---
Ubud is ranked fourth in the list of '25 Best Cities in the World' version of Travel and Leisure 2021. In that list Ubud is above Kyoto to Bangkok. In the list, Ubud managed to beat popular tourist cities in other countries, such as Bangkok, Seoul, Tokyo, and Rome. Ubud's position is above Kyoto, Japan and below Istanbul, Turkey. Bangkok is ranked tenth, Rome is ranked 14th, Tokyo is ranked 19th, and Seoul is ranked 23rd. Meanwhile, San Miguel de Allende city in Mexico was named the first rank of…
---
Tibumana Waterfall is one of the hidden tourist spots in Bali. Its presence in a rural area of ??Bangli, is still thick with shades of lush green trees. The existence of its location makes this tourist spot very comfortable to relieve fatigue while on vacation.Tibumana Waterfall Bangli Bali has the uniqueness of its shape like twin waterfalls. Because there are two streams of water located side by side. Even so, the waterfall with a height of 20 meters does not always flow the same. There are times when only one…
---
There are many ways to spend honeymoon with your partner, one of way is visiting romantic tourist destinations. About romantic tourist destinations, Bali is the right place for those of you who want to enjoy a honeymoon. Taking a walk to the beach together or enjoying the natural atmosphere away from the hustle and bustle of the city are things you can do when visiting this Gods Island. Campuhan Hill, UbudEnjoying the beautiful natural atmosphere while holding hands, walking down a beautiful hill is something you can find at Campuhan…
---