INDONESIA MAPS - MAPS OF 33 PROVINCES
Map of Indonesia plots all 33 provinces, include : Bali , Java, Sumatra, Borneo, Celebes, Molucca & Papua, Lombok, Bintan and more. It has much to offer to travelers and tourists. It is a land of hills, rivers, plateaus, plains, beaches, deltas and deserts. It also houses many luxurious hotels and resorts to cater to its booming travel and tourism industry.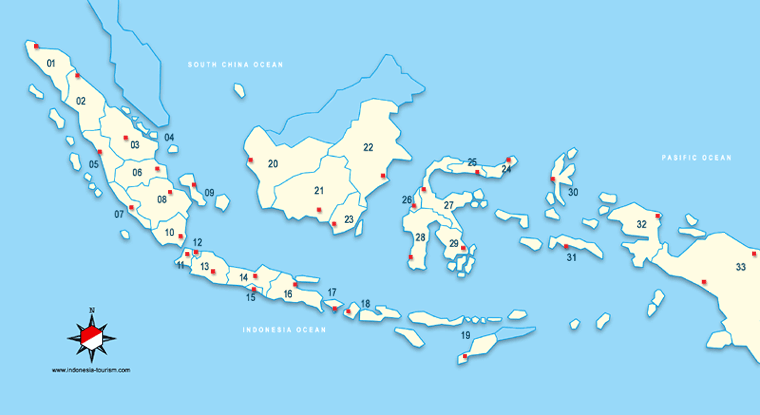 Indonesia-Tourism.com provides a wide collection of map for its audience. Indonesia Tourism Maps provide details of every single province of this country. Here you can look at maps of each province and detail village / regency. Here is the complete maps of Indonesia provinces that present for all visitors who want to know more about Indonesia region.
The good one is you can download the maps. Here we had divided the maps into three kind. You can choose the medium resolution map, high resolution map, or photo satellite map in high resolution. There are no one else present the complete maps. On here, you come to the right place!!

Interesting Link :



VideosTravelGuide.com : Find on here thousands of Videos from many interesting places from around the world
Copyright © 2009 All Rights Reserved Indonesia-Tourism.com | Members of Indonesia-Export.com | Promoted by: IndonesiaWebPromotion.com