Otanaha Fortress
---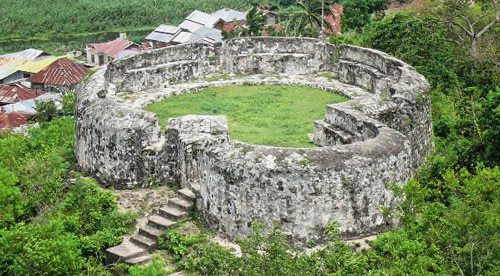 Otanaha fortress is a potential object for Gorontalo, instead of this located on strategic area, the historical value also become the main point for the tourists who want to visit to Gorontalo.
Otanaha Fortress is stand on the mountain hill around Limboto lake. There are 3 fortresses on Otanaha residence, which is Otanaha, Otahiya, an Ulupahu fortress. Seems like they are husband, wife and the kid.
Since 15 century, Otanaha fortress was build by the Portuguese as an agreement between King Ilato and Portuguese to avoid the pirates. Unfortunately, the Portuguese was just made a harness into the Gorontalo kingdom. This made the King drove the Portuguese out from Gorontalo.
The unique of the fortress applies in the material that was used to build the castle, which was the mixed of sand, plaster and the white part of Maleo egg. The panorama of Danau Limboto also can be seen clearly from Otanaha, because the fortress itself stands in the top of the highland. Precisely, it located in Dembe I, Kota Barat. The distance is approximately 8 km from the center of Gorontalo city.
Beside Otanaha, there are two more castles that also located in the same area, Otahiya and Ulupahu castles. The visitor must pass 345 steps of stairs to reach the three of the castles because of its position that located in the top of the highland. There is also alternative way to be able to reach the top of the mountain.

Latest News
Saronde is a small Island that located near to the Gulf Kwandang, North Gorontalo District. Although this tiny, the charm of the Island is internationally well-known. There are many foreign tourists that come to this Island during peak season. Seronde Island is still very natural, clean, and away from air pollution. The nature is very soothing and ready to indulge you. Here, you can swim, surf, dive, snorkel or water ski as much as you want. Just do not hesitate yourself to jump and swim, because the water is fine…
---
Pulau Cinta or love Island is become more popular today in Gorontalo, since it been promoted in Festival Sail Tomini Boalemo few years ago. Are you a newlywed and want to have perfect escape with your spouse? Then, celebrating your love together at this Island will be your best experience. Looking at the name that indicated the Love, the form of the Island is also unique, with a heart shape characterizing Love sign. Cinta Island is located in Boalemo district, Gorontalo, approximately 2 hours drive from the city of Gorontalo.…
---
Better known as Gorontalo's hidden paradise, Olele marine park is one of magnificent tourism objects in Gorontalo. It located in Olele village, Kabila Bone sub-district, Gorontalo. There are just so many things that make Gorontalo perfect for holiday, the beauty of its nature, the culture and not forget to mention, the friendly people. Mountains, hills, shore line are the main characteristic of Gorontalo and it makes the island perfect for marine tourism. To reach Olele, it only takes 20 km from downtown Gorontalo. We can take 40-50 minute driving to…
---
Limboto Lake Limboto is a lake located in Limboto District, Gorontalo, Indonesia. This lake has a depth of between 5 to 8 meters, the tourists that coming to this lake can enjoy various activities such as, fishing, boating competitions, or swimming. In addition, they can also enjoy the fresh grilled fish that supplied by local fishermen. It's affordable and interesting. Lake Limboto is becomes widely from year to year and the depth is steadily decreasing. Limboto lake in 1999 vast ranged between 1900-3000 ha, with a depth of 2-4 meters…
---