GENERAL INFORMATION OF BATAM ISLAND
---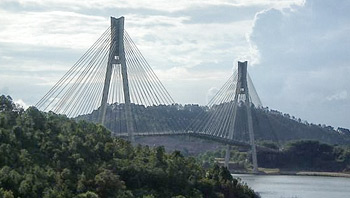 The People
The native people of Batam are Malay origin, but with the rapid growth and development of the area various ethnic groups from all over Indonesia has come here in search for jobs and a better life. Traditionally, most of the people live in coastal villages, while the "Orang Laut" (sea people) continues to live on boathouses and boats and generally fish for a living. Some of their catches are sold to Singapore. 'Bahasa Indonesia' is the language used to communicate among the multi-ethnic population here, while many now also understand English, which is commonly used in business communication.
Culture
Even if Batam is multi-ethnic it is still the Malayan culture and Islam, which forms the root of the local culture. Both daily life and the ceremonies have religious and mythical elements, expressed in dance, music and other forms of art. Some of the most popular traditional dances are Jogi Dance, unique for Batam, Zapin Dance, which reflects strong Arabic influence, Persembahan Dance, to welcome honored guests and Ronggeng Dance, where the guests can be invited to come up and join the dance and song.The Mak Yong drama is a dance and song performance, which tells the story about a country named "Riuh", commonly believed to be the origin of Riau province name. This country is governed by a wise and popular king, who one day to his surprise and embarrassment is told that his princess have given birth to an animal called "Siput Gondang" (the gondang snail). Upset by this event he orders the newborn to be expelled to the jungle. A couple of years later he is told that the snail has begun to grow, and he asks for the snail to be brought to the Royal Palace where the shell is broken. To his surprise and joy he can see a beautiful princess appear from the broken shell, and he names her Putri Siput Gondang (Princess Siput Gondang), celebrations are then held for seven days and seven nights.
But also other cultures contribute to the Batam community, and in the "Padepokan Seni" art center in Sekupang we can see arts and crafts from all over Indonesia, as well as various kinds of performances, which are staged every day for the visitors and tourists. Another art center in Sekupang is "Desa Seni", Indonesian art village, which main objective is to "maintain, conserve and develop the Indonesian culture", and also to manage the Cultural Institute where qualified instructors conduct various shows and courses.

Latest News
Tanjung Uban Tanjung Uban is a town districts in Bintan, Riau Islands Province. The city is also included in Bintan Island which has a sea port for expedition ships and pioneer passenger ships belonging to PT. Pelni. Kota Tanjung Uban … Continue reading →
---
Lagoi beach is located in North Bintan sub-district, Bintan, Riau Islands province. This beach is majestically beautiful and have the same value as other beaches in Bali or Lombok. By the beauty inside the beach, there are foreigners coming along … Continue reading →
---
Tokong Nanas Island Tokong Nanas island is one of the outermost island in Indonesian that located in Natuna islands and part of South China ocean that bordered with Malaysia. Administratively, this island is part of Natuna regency, Riau Archipelago. This … Continue reading →
---
Small Subi Island Subi Kecil or Small Subi island is included in the cluster of South Natuna Island. The island is quite wide with white sand and rocks on the edge of the beach. Most of the land is planted … Continue reading →
---