Indonesian Orchid Park in Pinang Ranti Rural Community, East Jakarta City
---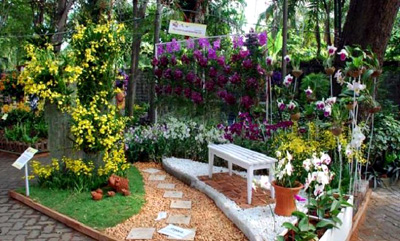 What is a recommended place to enjoy a vacation in Jakarta Special Region? Well, many options are available. For example, Indonesian Orchid Park resides in East Jakarta City. All people living in Jakarta should have heard about it. The place stores various species of orchids and becomes a great place for tourists, collectors, and traders. The park was inaugurated in 1993 by Soeharto (the 2nd President of Indonesia), and today it becomes a recommended spot for a recreation. Most of the visitors are orchid lovers, after all. However, it is also suitable for everyone, including families and travelers.
The Nuance
The location is about 1 km from TMII and it is near to At-Tin Mosque. Once tourists reach the location, they can see a wide parking area, decorated with Balinese Frangipani flowers. In fact, the parking lot can accommodate hundreds of vehicles. The thing is visitors should pay the parking fee. Next, there is a hall with the shape of Balinese gate. It also features a fiberglass roof that makes the nuance a bit tropical and hot. Another unique feature is the trash bins, having the shape of a yawning frog.
Exploring Indonesian Orchid Park
According to the history, Indonesian Orchid Park was constructed to respect women's rights. The idea came from Soeharto's wife, actually. As if, it represents the beauty of Indonesia. Not to mention it becomes a famous tourist spot in Jakarta. The park displays numerous types of orchids and all of them come in a beautiful appearance and satisfying fragrant. There is a famous one, which is called "Anggrek Bulan". In fact, it is the signature orchid of Indonesia. The government even included it in the list of National Flowers or Puspa Pesona.
Apart from tourists, visitors come to the park for studying orchids. The fact is a research center resides there. Those who work in laboratory unit keeps developing orchid seeds until reaching the age of 1.5 years old. Later, they might distribute them to kiosks for sale. As for tourists, the park becomes both a marketplace and sightseeing. It is highly recommended to come with more cash, as they would spend it on beautiful orchids and seeds, after all. As for reference, Bromelia is considered the best seller there. Have no worries. The price is definitely affordable.
Once visitors explore all parts of the park, it is time to visit a renowned restaurant called Karimata. The location is near to Indonesian Orchid Park, after all. It is the place to enjoy delicious foods like grilled fish and spicy sauces! That dish indeed represents Indonesian's culinary, which is spicy and flavorsome. Overall, the restaurant becomes the right option to end the adventure in the park. That means tourists would go home in full stomach!
Nearby Attractions
Ragunan Orchip Park
Ragunan Zoo
Jakarta Catherdal
TMII
How to Get There
For those living outside Jakarta, it is better to head to Soekarno-Hatta Airport first. From there, tourists can directly head to Pinang Ranti Rural Community, East Jakarta City. The park is located in TMII Raya Street, after all. It takes about 1 hour and 20 minutes from the airport and the distance is 44.7 km.
Where to Stay
Fiducia Pondok Gede Hotel

Latest News
  In a nutshell, Indonesia is an archipelago nation. That means it holds tons of islands. The options are limitless for travelers. The local name is "Kepulauan Seribu". Tourists also call it Thousand Islands Regency. The combination of islands makes a perfect Thousand Islands National Park. The location is about 45 km from the capital of Indonesia, Jakarta. Why is it popular among tourists? All the islands offer great nature attractions. These include beaches, underwater scenery, trees, and much more.   In terms of beauty, Thousand Islands Regency is considered…
---
Hotels In Jakarta is an application that loading information and references to some accommodations in Jakarta. There will be categories that show the location according to Jakarta's administrative areas and categories for the stars of the hotels that you need for your importance. Moreover, this online application is accessible for iPad and iPhone and it needs Internet connection required. It also completed by short description and pictures, related the hotels. By having this application is just the same as having your personal guide reference to choose your best night to…
---
Yapong Dance Yapong dance is typical of traditional happy dance that having delicate and kind of erotic moves. The term of Yapong was taken from the song that follows the dance which sounds 'ya ya ya' and the sound of the music that heard like 'pong pong pong'. Hence, it was later on popular as Yapong dance. The dancers of this traditional erotic dance are women, they wore traditional Betawi wardrobe that complete with head accessories from Betawi tribe. There is also scarf that being used as an additional wardrobe,…
---
Betawi Mask Dance Jakarta native community or better known as Batawi people has a lot of traditional art, one of which is the Betawi mask. Betawi mask has at least three main elements: music, dance, and theater. The dance in this traditional art then so called as Betawi Mask Dance. Why using a "mask"? This is because Betawi people think that the mask is having magical powers. In addition to refuse reinforcements, it was also considered capable of removing sorrow because of death, illness, or any other disaster. Betawi mask…
---