Jaya Ancol Dreamland (Taman Impian Jaya Ancol)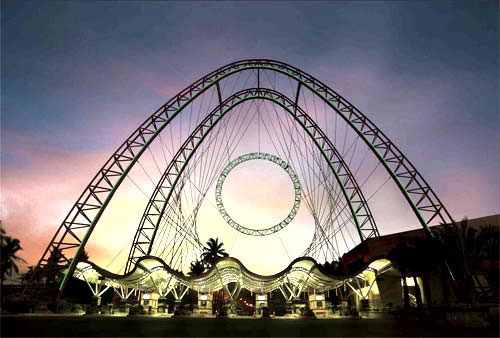 Taman Impian Jaya Ancol, an amusement park in north Jakarta, Indonesia, is one of the most attractive places serving the densely populated city of Jakarta. It has all the adventures people crave for; Sea World, Fantasy World, Atlantis Water Adventure and Marina Beach. This is Jakarta's largest and most popular recreation park. It is built on reclaimed beach land at the Bay of Jakarta, having, sea and freshwater aquariums, swimming pools, an artificial lagoon for fishing, boating, bowling, an assortment of nightclubs, restaurants, a steam-bath and massage parlors. The Ancol complex includes a Marina, Dunia Fantasi (Fantasy Land), a golf course, hotels and a drive-in theater. The "Pasar Seni" or art market has a varied collection of Indonesian handicraft, paintings and souvenirs on sale. At a nearby open-air theater art performances are held using the local dialect.
Inside the Ancol Dreamland, there is Ancol Art Market, it is outdoor art market likely recreational place where we will be most tempted to purchase something. Items include antiques, handicrafts, painting, potters, and knickknacks. With many of the artisans working on site, it is a paradise for souvenir hunters and art lovers. This colorful open-air market located in the Ancol Amusement Park provides the unique experience of not only buying quality Indonesian arts and craft, but also a chance to see and meet the artisans at work. We can watch puppet makers, wood-carvers, painters, and many other craft makers from throughout the archipelago cheerfully working on their creations. At this art and handicraft market, visitors get to watch Indonesian artists creating their masterpieces. Hundreds of artists from all over the country congregate here to exhibit their work, making the spot a fascinating place for tourists and art connoisseurs. We can even get a portrait of our self-done. Both traditional and modern art and crafts are on display, including paintings, sculptures, traditional Indonesian wayang kulit (leather puppets), gemstone jewelry and many other artistic products. Art performances are frequently held at the Art Market (Pasar Seni) inside the Jaya Ancol Dreamland on Jakarta's beach. They normally range from wayang kulit shadow plays to folk dances and modern drama. This location is open Monday to Saturday, from 2 p.m. to 9 p.m.; Sunday, from 10 a.m. to 9 p.m.

Latest News
  In a nutshell, Indonesia is an archipelago nation. That means it holds tons of islands. The options are limitless for travelers. The local name is "Kepulauan Seribu". Tourists also call it Thousand Islands Regency. The combination of islands makes a perfect Thousand Islands National Park. The location is about 45 km from the capital of Indonesia, Jakarta. Why is it popular among tourists? All the islands offer great nature attractions. These include beaches, underwater scenery, trees, and much more.   In terms of beauty, Thousand Islands Regency is considered…
---
Hotels In Jakarta is an application that loading information and references to some accommodations in Jakarta. There will be categories that show the location according to Jakarta's administrative areas and categories for the stars of the hotels that you need for your importance. Moreover, this online application is accessible for iPad and iPhone and it needs Internet connection required. It also completed by short description and pictures, related the hotels. By having this application is just the same as having your personal guide reference to choose your best night to…
---
Yapong Dance Yapong dance is typical of traditional happy dance that having delicate and kind of erotic moves. The term of Yapong was taken from the song that follows the dance which sounds 'ya ya ya' and the sound of the music that heard like 'pong pong pong'. Hence, it was later on popular as Yapong dance. The dancers of this traditional erotic dance are women, they wore traditional Betawi wardrobe that complete with head accessories from Betawi tribe. There is also scarf that being used as an additional wardrobe,…
---
Betawi Mask Dance Jakarta native community or better known as Batawi people has a lot of traditional art, one of which is the Betawi mask. Betawi mask has at least three main elements: music, dance, and theater. The dance in this traditional art then so called as Betawi Mask Dance. Why using a "mask"? This is because Betawi people think that the mask is having magical powers. In addition to refuse reinforcements, it was also considered capable of removing sorrow because of death, illness, or any other disaster. Betawi mask…
---