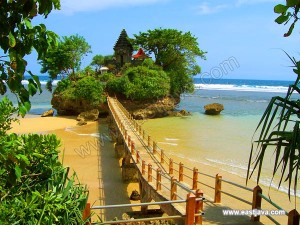 Malang
Malang regency, is one of East Java regencies and the second largest city in East Java. The city is located in a fairly cool highland, located 90 km south of Surabaya. The city around Malang also has a cool fresh air like Tumpang, Batu, Singosari and Turen. Malang also being surrounded by famous mountains, which are: Mount Arjuno in North side, Mount Semeru in East side, Mount Kawi and Panderman on West side and Mount Kelud in South.
The name of Malang is reffered to the temple of Malang Kucecwara, which means God has destroyed the false and enforced the right. And nowadays become the motto of Malang city.
The history of Malang was dates back to the Dinoyo inscription which was mention that 8th century was the early existence of Malang regency's government due to the birth of King Gajayana's ruling of his kingdom in Malang. It was also stated that the birth date of Malang Regency was on Jum'at Legi (sweet Friday) 28 November 760 AD.
The local inhabitant of Malang is mainly Javanese, with some minor group of Madurese, Arab and Tionghoa. The solidarity of Malang people is famous by their called Arema [Arek Malang] or Malang people.
By the Dutch colonialism Malang nowadays still remain the contribution of Dutch like the building, for example; Jami Mosque (or Agung Mosque), Sacred Heart Church (Gereja Hati Kudus Yesus) in Kayutangan, Saint Therese Cathedral (Gereja Ijen or Katedral Santa Theresia) in Ijen Street, seat fo the Roman Catholic Diocese of Malang, Eng An Kiong Buddhist Temple in Laksamana Martadinata Street.
On everyday life, Javanese and Madurese is the main language to be spoken by Malang people, instead of their slang language called Bahasa Walikan. It is such a language by reversing the word, like Malang into Ngalam.
The tourism attractive are varied in Malang, there is beaches, waterfalls, temples and its agro tourism.
Its chill… its cool… its  Malang
Written by
http://www.indonesia-tourism.com/east-java/malang.html
Tourism detail
http://www.eastjava.com/tourism/malang/index.html