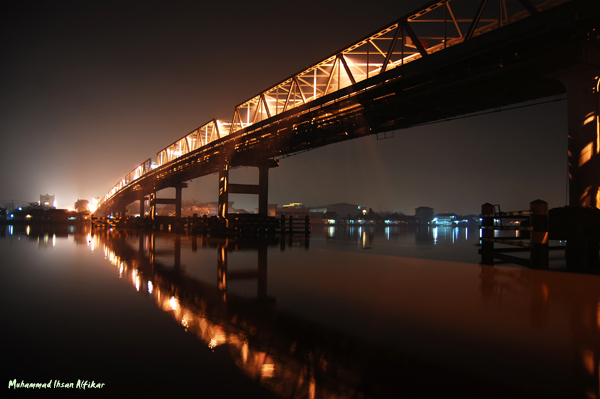 Kapuas
Kapuas, is one of regencies in Central Kalimantan with the capital city of Kuala Kapuas. Kuala Kapuas, is the capital of the Kapuas district. Kuala itself means delta. Kuala Kapuas is a beautiful city, because it is located on the banks of the river at three intersections. Those three rivers are Kapuas Murung River, Kapuas river, and Java Sea Coast.
At night there are hundreds of lamps flickering the glare around the river. The city was built long ago before the existence of Palangkaraya, Central Kalimantan capital. This comes from the port city of small-scale trade between islands and between regions. Today the Kalimantan causeway opened Kapuas insulation to other areas in Kalimantan.
The development of Kuala Kapuas quite intensive, especially residential areas and new urban areas that include government buildings and other supporting infrastructure. Kuala Kapuas is the gateway to the south side of Central Kalimantan Province.
The northern part of Kapuas is hilly area, with elevation between 100-500 meters from the sea surface. The southern part consists of beaches and marshes with a height of between 0-5 meters from sea surface. In addition, Kapuas area has regional / waters territorial including lakes, swamps and some major rivers.
The ethnic groups that live in Kapuas are Dayak Ngaju, Dayak Bakumpai, Dayak Maanyan, Dayak Oot Danum, Banjar Malay, Javanese and other minor tribe. Ngaju Dayak is a native indigenous, the area consisting of oloh (people) who inhabit the Kapuas Kapuas river flow, oloh Kahayan, which inhabit the river and surrounding Kahayan, oloh Mangkatip / Baradia inhabiting the rivers and surrounding areas.
Dayak Ngaju are have fairly important role in Kapuas district governmental, many local officials and community leaders come from these tribes. While Malays Banjar play an important role in commerce and agriculture in Kapuas.
Agricultural sector with the main commodity of rice is one of the mainstay from this district which is the barns of Central Kalimantan. Besides rice, other agricultural commodities which are potential are marine fisheries, plywood, rubber (crumb rubber), coconut coir, woven rattan. Moreover, the furniture industry, handicrafts of Purun, wooden boats, rubber shingle ironwood and ironwood beams. Mining sector is also quite promising. The county is rich in mining materials such as diamond, gold, coal, mica, kaolinite, limestone, quartz sand, and peat.
Kapuas also has some tourism destinations that show the uniqueness from this city, like Dange ceremony, which is like harvest ceremonial or thanks giving annual ceremony, rafting spot in Kapuas river, Betung Kerihun national park, which is the heart of Kalimantan forest.
Longhouse or rumah panjang (Betang), which is part of Culture "Dayak" is still standing upright in a small town of Buntoi, Tumbang Kurik and Tumbang Malohai village. Wicker craft basket in Kuala Kapuas, freshwater prawn fishing and floating market Kapuas is the things that coloring the Kapuas' inhabitant. There is also a very beautiful beach area in Cemara Lebat on the banks of the Java Sea.
www.indonesia-tourism.com