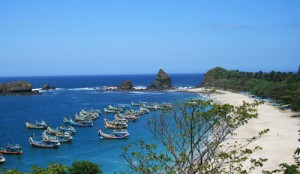 Jember
Jember regency, one of East Java regencies. Have border with Probolinggo and Bondowoso in North, Banyuwangi in East, Hindia Ocean in South and Lumajang regency in West.
The local inhabitant who live in Jember mostly coming from Javanese and Madurese, with some minor ethnic of Tionghoa and Osing people. Mostly are Moslem and they usually use Javanese and Madurese language as their mother tongue after Bahasa Indonesia.
Agriculture is the most economic commodity from Jember. In Jember there are many areas of plantations, mostly are Dutch heritage. Jember is well-known as a tobacco producer and it is being exported to Germany.
Looking from tourism destination, Jember has numbers of destination which is many exotic places inside like the beaches, the waterfalls, agro-tourism, pools and many more.
Witten by
http://www.indonesia-tourism.com/east-java/jember.html
Fo more about Jember Tourism