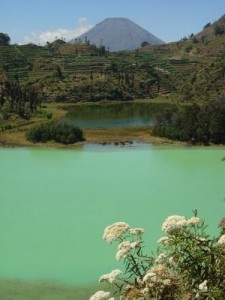 Wonosobo
Wonosobo regency, the capital is Wonosobo is one of regencies in Central Java province. This regency is bounded with Temanggung and Magelang regency in east, Purworejo regency in south, Kebumen regency and Banjarnegara in west, Batang regency and Kendal regency in north.
Wonosobo regency was born on July 24, 1825 as a district under the Sultanate of Yogyakarta after the battle in the Diponegoro war.
Based on the etymology, the word Wonosobo comes from the Javanese : Wanasaba, which literally means "a gathering place in the woods". Java language itself retrieve it from the Sanskrit Language: vanasabh? which more or less have the same meaning. Both words are also known in two books of the Mahabharata: "Sabhaparwa" and "Wanaparwa".
Wonosobo is a mountainous area that has beautiful natural scenery and the weather is cool and fine, Wonosobo have known by domestic and foreign tourists as an interesting tourist destination in Central Java. Even, since Dutch period, Wonosobo had been called as Paris van Java (The Paris in Java) this is because there are similarities between Wonosobo with Paris in terms of beauty and nature coolness.
Tourism in Wonosobo is including natural attractions, archaeologist, special interest tourism, and recreation centers. Here are the names of the attractions at once frequented Recreation places in Wonosobo:
Dieng Plateau, Complex Dharmasala, Hindu temple complex, menjer lake, color lake, cebong lake, Dlingo, and Balekambang,Tambi agrotourism, Sileri Crater, Candradimuka, Sikidang, Sikarim Waterfalls, Indrakila Hermitage, Batu Caves, Spring Surodilogo, Mount Kembag, Karanggantung Garden, Kalianget Recreation and Sports Centre, and Mangli Swimming Venues.